Now you can get my book "The Golden Retriever for work and pleasure" sent to you (10£ plus postage). Order by mail or phone stefan@ringmaster.se +46708430919
History
The first time I laid eyes on a Golden retriever was in 1966. It was in the southwest of England in the little seaside resort of Seaton. Every day an amiable golden dog appeared on the beach when we were there. He strolled around mostly on his own, but he spontaneously made contact with those who invited him. Now and then he would go for a swim and roll himself dry on his own bath towel when he got out of the water. He kept an eye on his owners but was at the same time independent and socially agreeable. I immediately fell for the appearance and behaviour of this dog.
The first encounter with what turned out to be a Golden retriever has stayed with me all these years and I can still close my eyes and picture the lovely golden dog on the beach. I decided to obtain such a dog in order for my future children to grow up with this wonderful creature.
When I asked the owners about the dog's breed I unfortunately didn't ask for his pedigree, but I have since often wondered if it could not have been a golden of Yeo's. Yeovil is not very far from Seaton and the dog was the same type as the Yeo dogs I later encountered. It was well built and well balanced with a wavy golden coat. As soon as we got back from England I rang the Swedish Kennel Club and enquired about Golden retrievers.
There were just a few breeders of Golden retrievers in Sweden at that time. We were directed to the breeders of Hedetorpet and Bäckastigen in our area, but there were no puppies available. A bit further afield we found Apport's and booked a puppy from Mona Lilliehöök.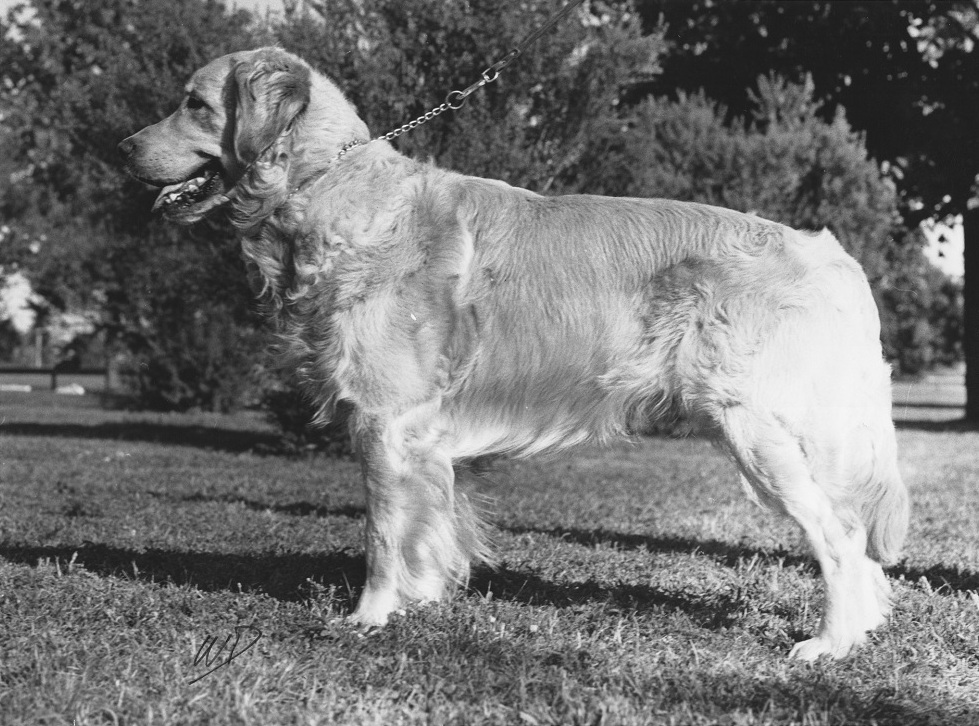 SE UCH Apports Donovan

There was no time to travel up to see our puppy, so the first time I saw a Golden retriever in Sweden was when I met eight-week-old Apport's Donovan (lovingly known as Muffe) at the now disused Torslanda airport in Gothenburg.
Donovan had a dual purpose pedigree of old Stubblesdown and Wessex bloodlines. He was just what I want in a Golden retriever: a well built dog that loves working, independent with a strong nose and a good memory. Donovan later became a show champion with field trial merits and was on his way to becoming a double champion when an injury prevented further field trials.
You can see I wasn't disappointed in the choice of breed and dog and as I have always been interested in breeding I started looking for a suitable bitch puppy that was to be the beginning of my own breeding kennels. Donovan had produced a few promising litters which inspired me.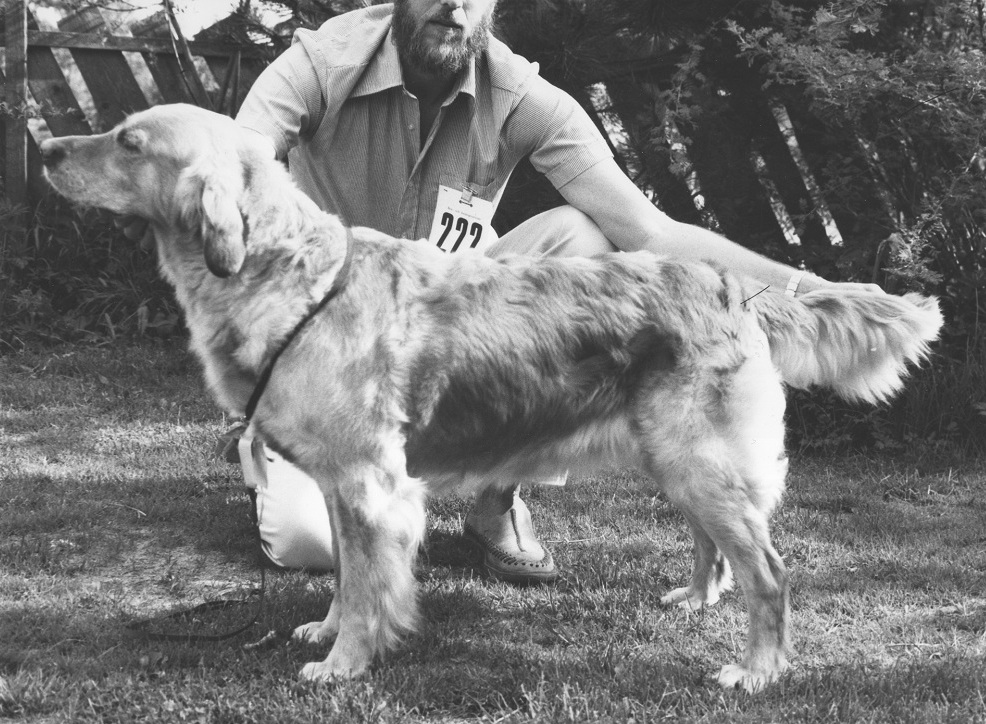 Apports Airy
I returned to Apport's and put my name down for a puppy by Apport's Larry II out of Camrose Qualetta named Apport's Airy. She was actually a litter sister of Henric Fryckstrand's first Golden retriever NO UCH Apport's Angelique.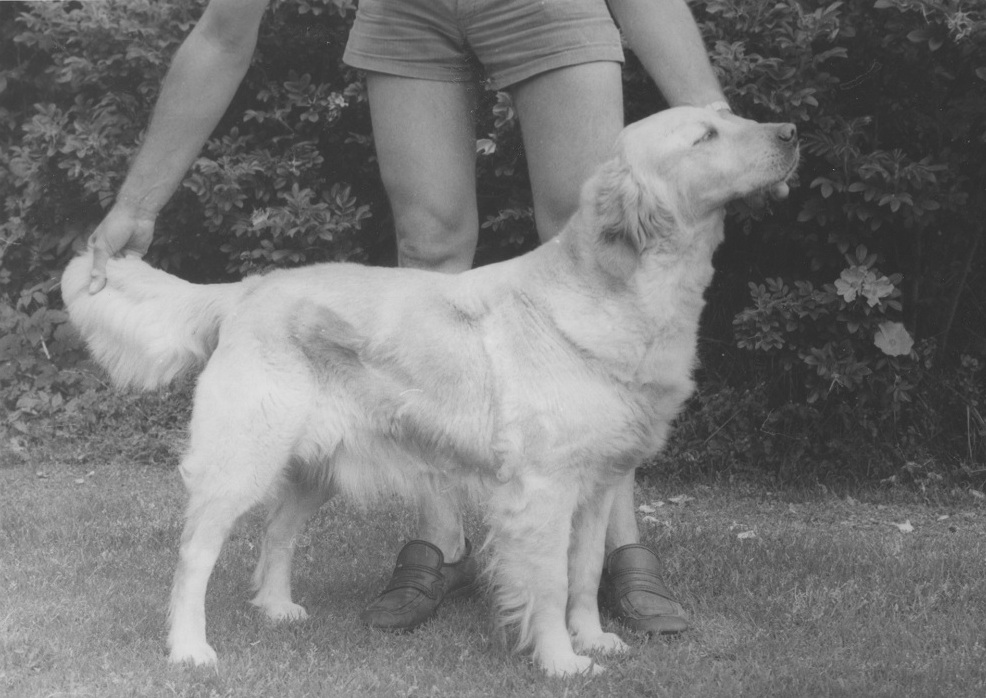 Ringmaster Darling
I was very lucky and got a litter by Donovan out of Airy where I kept a bitch puppy: Ringmaster Darling – and so Ringmaster breeding kennels got off the ground.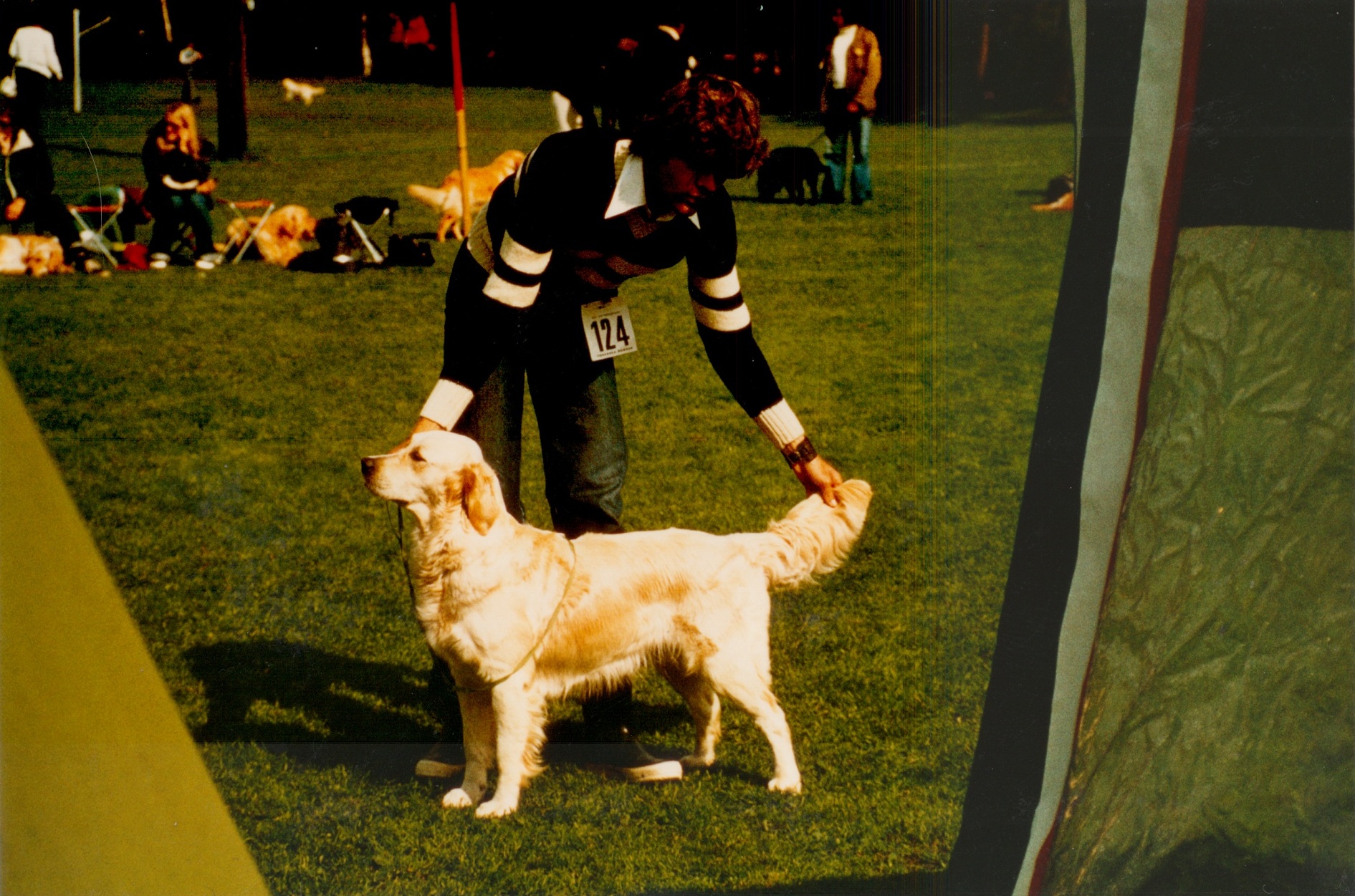 Muskokas Moro Flapöre
Donovan was mated to a Norwegian bitch that was a Norwegian show champion with field trial merits (the only one there was), NO UCH Sandra, and I got a puppy from this combination called Muskokas Moro Flapöre. She became a good gundog and show dog and left some good offspring.
In the early 1970's Ringmaster consisted of one stud dog and three breeding bitches from Sweden and Norway. Now I turned to Great Britain where I had seen my first Golden retriever. After reading Joan Tudor's book on Golden retrievers I was impressed by her Camrose lines and I went looking for something like the big star GB CH Cabus Christopher. I contacted Mrs Tudor and she picked a bitch for me at Styal's kennels (the dam was called Styal Sophia) and it was a beautiful, promising puppy called Styal Symbol that came to Sweden. However, she was my first setback. Her hips looked terrible on the x-rays so I re-homed her (she ended up on the Isle of Gotland and lived a long, happy life free from any hip trouble!).
I wanted another go so I joined the Golden Retriever Club and in its Yearbook I studied the adverts and circled kennels with beautiful dual purpose goldens. Then I contacted the breeders and planned some visits. In 1976 I crossed the North Sea.
The first kennels I visited was Deremar's and I was very impressed. At the time they had eight goldens, all well built and very pleasant and obedient with a rich gold colour. The top bitch was GB CH Deremar Rosemary (by GB CH Camrose Cabus Christopher) and I was very interested in having something out of her.
We continued our journey and arrived a few hours later further west at Bridge House in West Coker near Yeovil in Somerset.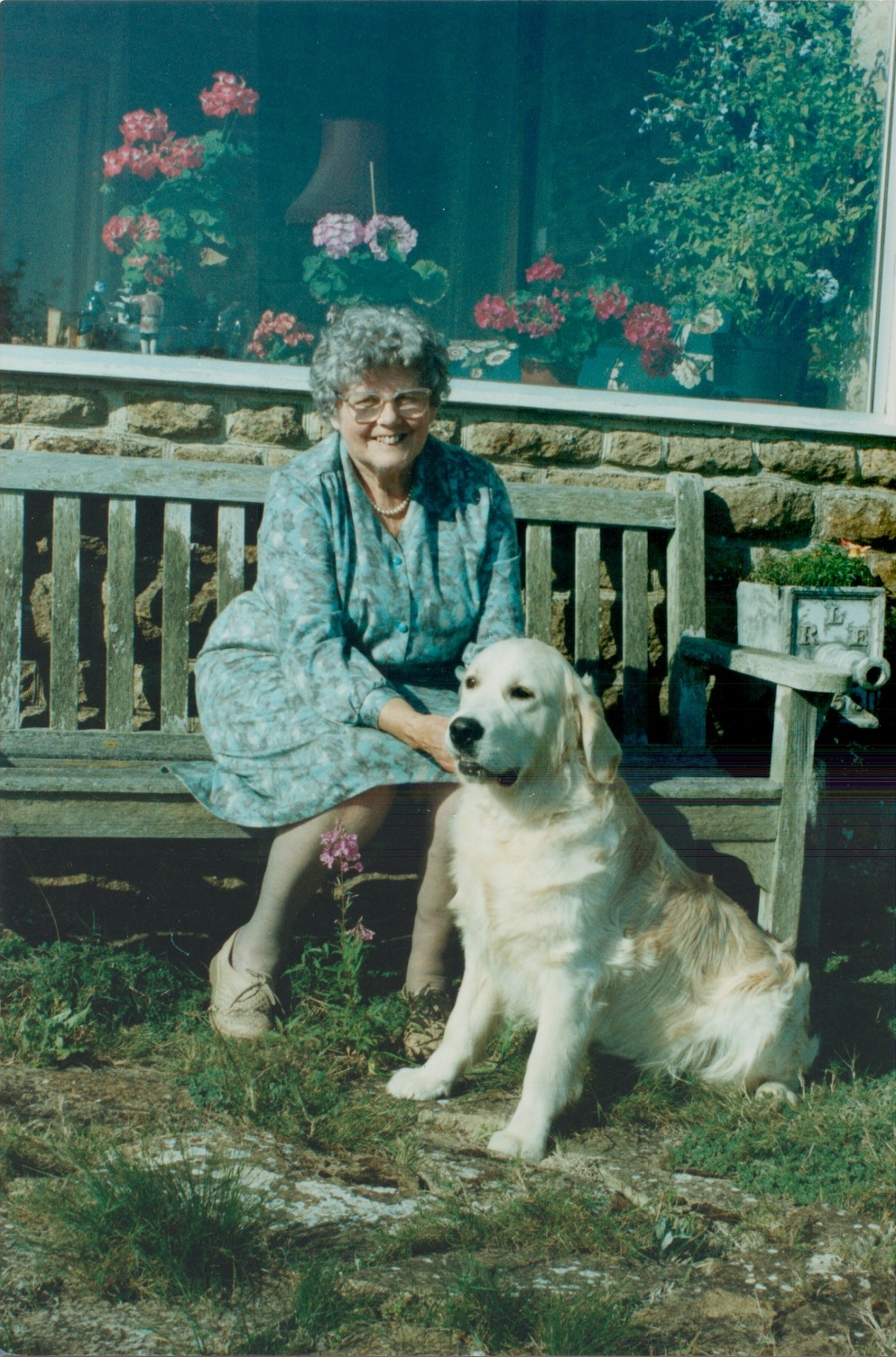 Mrs Lucille Sawtell
Mrs Lucille Sawtell received us and showed us around a lovely garden with tennis court and kennels with Goldens and English setters. I was introduced to GB SH CH Concord of Yeo and GB CH Deerflite Endeavour of Yeo, the latter a real star, a fantastic bitch. She was large and magnificent, well built with personality, had twelve C.C.s and was a very good gundog. She was at least on a par with Rosemary both for showing and, I believe, for working. There were two young bitches one of which might be for sale.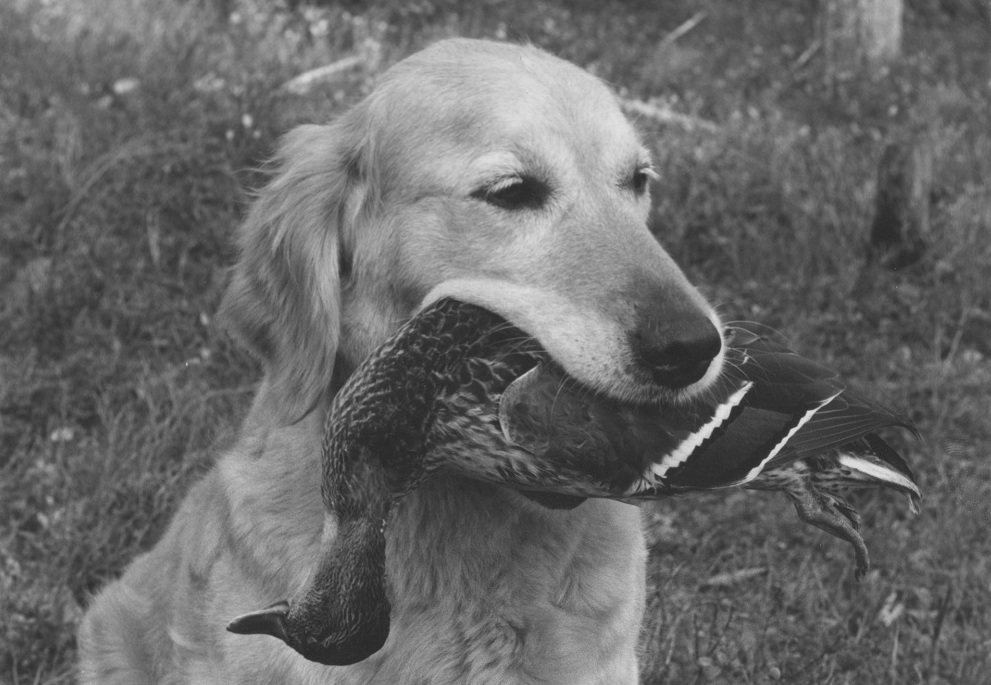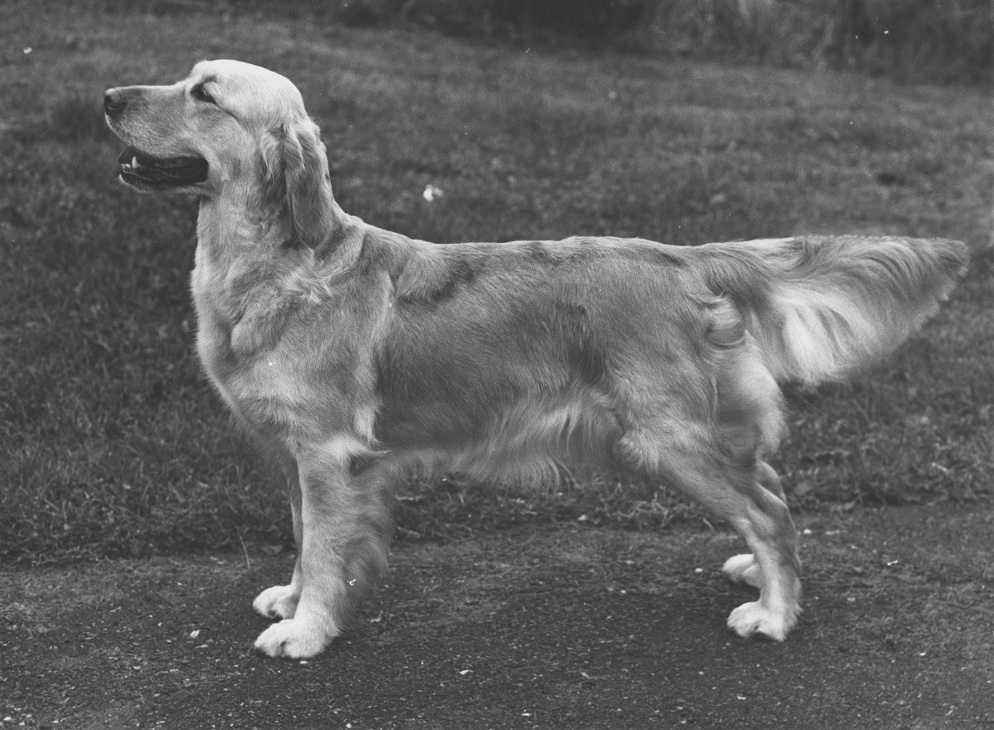 SE UCH Enterprise of Yeo
The question was, which one did I like? One was Enterprise of Yeo (Pride), a daughter to Endeavour, and the other was Romance of Yeo. I immediately fell for Pride who I thought was the more harmonious and expressive of the pair. She was of an excellent type, had good bone, nice expression and perfect pigment. Romance, too, was not bad, so it wasn't an easy choice.
At the time hip hysteria was raging in Sweden (it still is, I suppose), and I had had a letdown when I imported that daughter of Christopher's. Pride and Romance were actually x-rayed and Lucille had the plates, so I asked if I could take them with me and have them assessed in Sweden, which I could. Lucille must have fallen for my charms.
Although my plan was to visit a few more kennels in the southwest of England I realized I didn't have to. I had found what I had been looking for.
Back in Sweden I went off to P.O. Gustafsson in Partille who was then in charge of hip assessments for the Swedish Kennel Club. He concluded that Pride's hips were excellent. Romance's hips were also good, but I had already decided in favour of Pride and closed the deal with Mrs Sawtell. Pride was flown to Torslanda and I had my ultimate brood bitch.
Pride is the bitch that has influenced Kennel Ringmaster the most. Once when Pride was still around I looked at all my dogs and I saw that every single bitch around her was her daughter, grand-daughter, great-granddaughter or even great-great-granddaughter. It was that simple, without Pride there would have been no Kennel Ringmaster to speak of.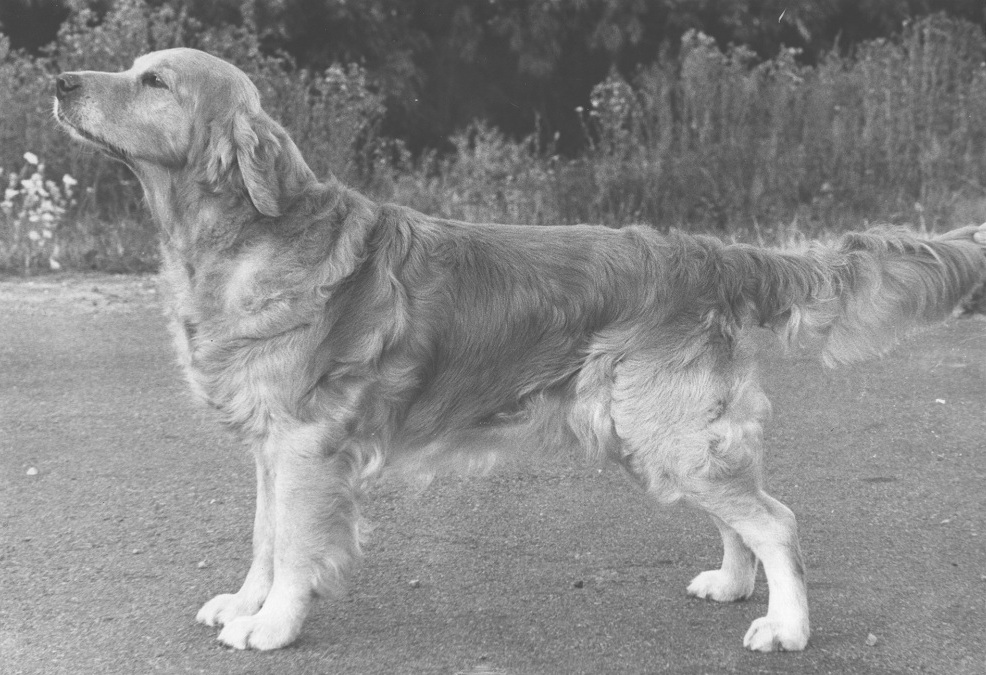 Checkpoint of Yeo
After Pride I imported several fantastic goldens from of Yeo. The stud dog that imprinted on his offspring both his exterior and his working capacity and that has most consolidated the type of dog that of Yeo represented is Checkpoint of Yeo, Charlie. He succeeded in producing happy dogs with plenty of will to please, bone and pigment with a variety of bitches, an invaluable quality. He was himself on the small side and only got one CC in his career but among his many offspring were many C.C. winners, including a champion – SE UCH Ringmaster Pretty. The title SE UCH stands for a full champion – three CC – or more – and a working gundog certificate.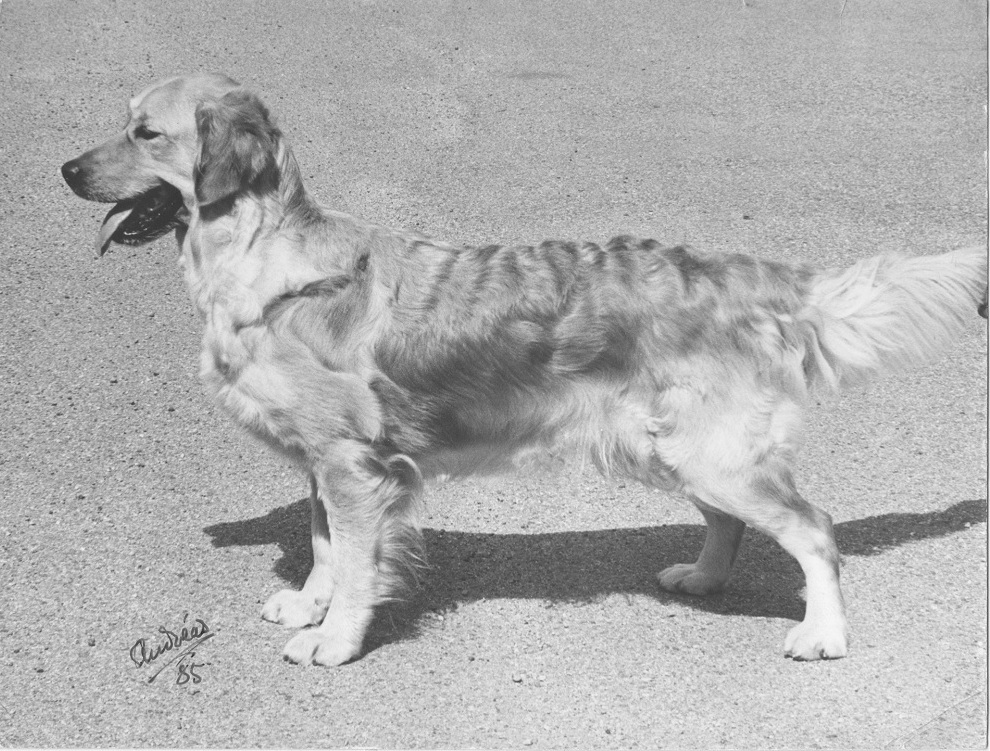 SE UCH Ringmaster Pretty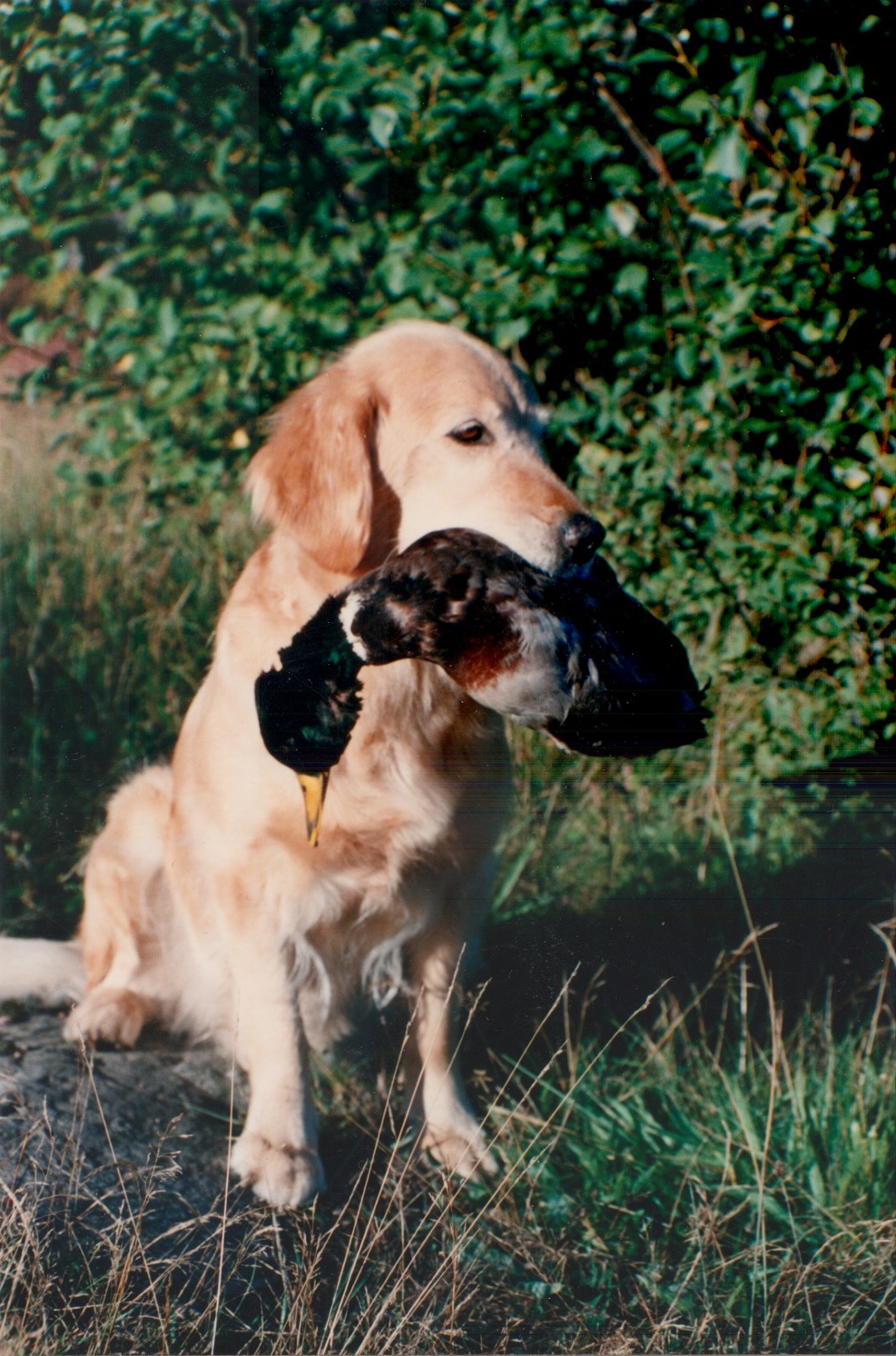 SE JCH Ringmaster Summerday

Not only that, he also sired a field trial champion (SE JCH Ringmaster Summerday), a working trial champion and several obedience champions (among which was SE LCH Ringmaster Summerboy). He received about fifteen reserve CC:s , something which made me very good at congratulating C.C. winners. Checkpoint was a thoroughly pleasant fellow, very sociable and easy going. When I imported Charlie he was around ten months old. I remember him sleeping on sun deck as we travelled home on the ferry (those were the days). Next to Charlie there was a solid metal door that opened and shut very loudly every time someone passed. He surprised all of us by sleeping soundly on despite the racket. He was soon everyone's favourite on the boat and I even got an advance booking for a puppy, because one gentleman had "never seen a dog with such good nerves".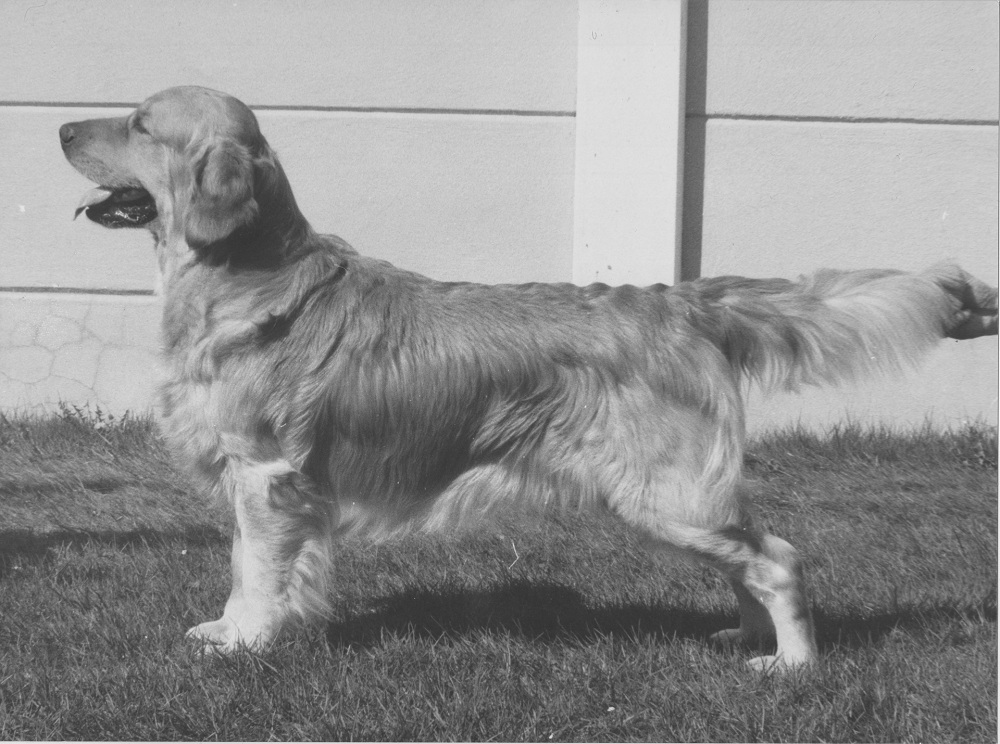 SE LCH Ringmaster Summerboy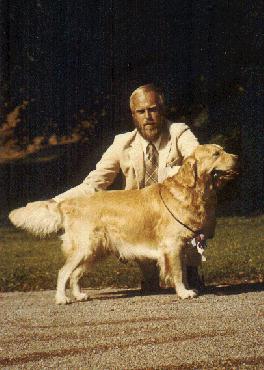 Goldfinder of Yeo
Goldfinder of Yeo is also worth a mention. He had made a career as stud dog in Great Britain when he came to Ringmaster at three and a half years old.
I never forgot about my first visit in England with Kennel Deremar and GB CH Deremar Rosemary.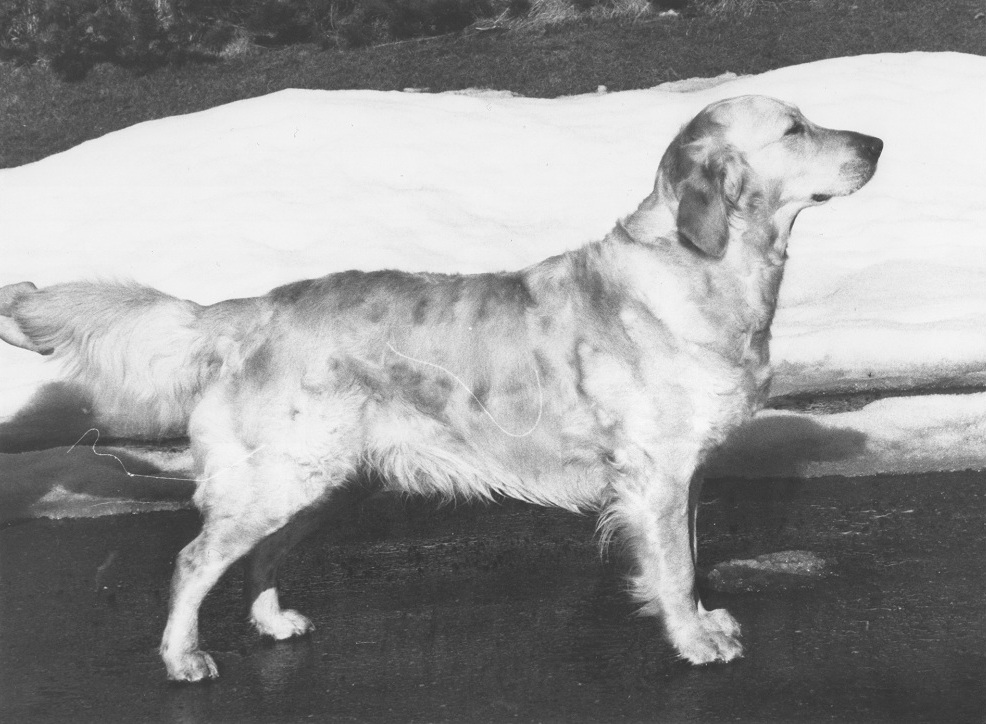 Ringmaster Delight
She had a son in Sweden, FI UCH NO UCH NORD winner-79 Deremar Donald and I used him on Darling and got Ringmaster Delight. She was in turn mated to NO UCH Mjaerumhögdas Magic Man which resulted in a very good allrounder: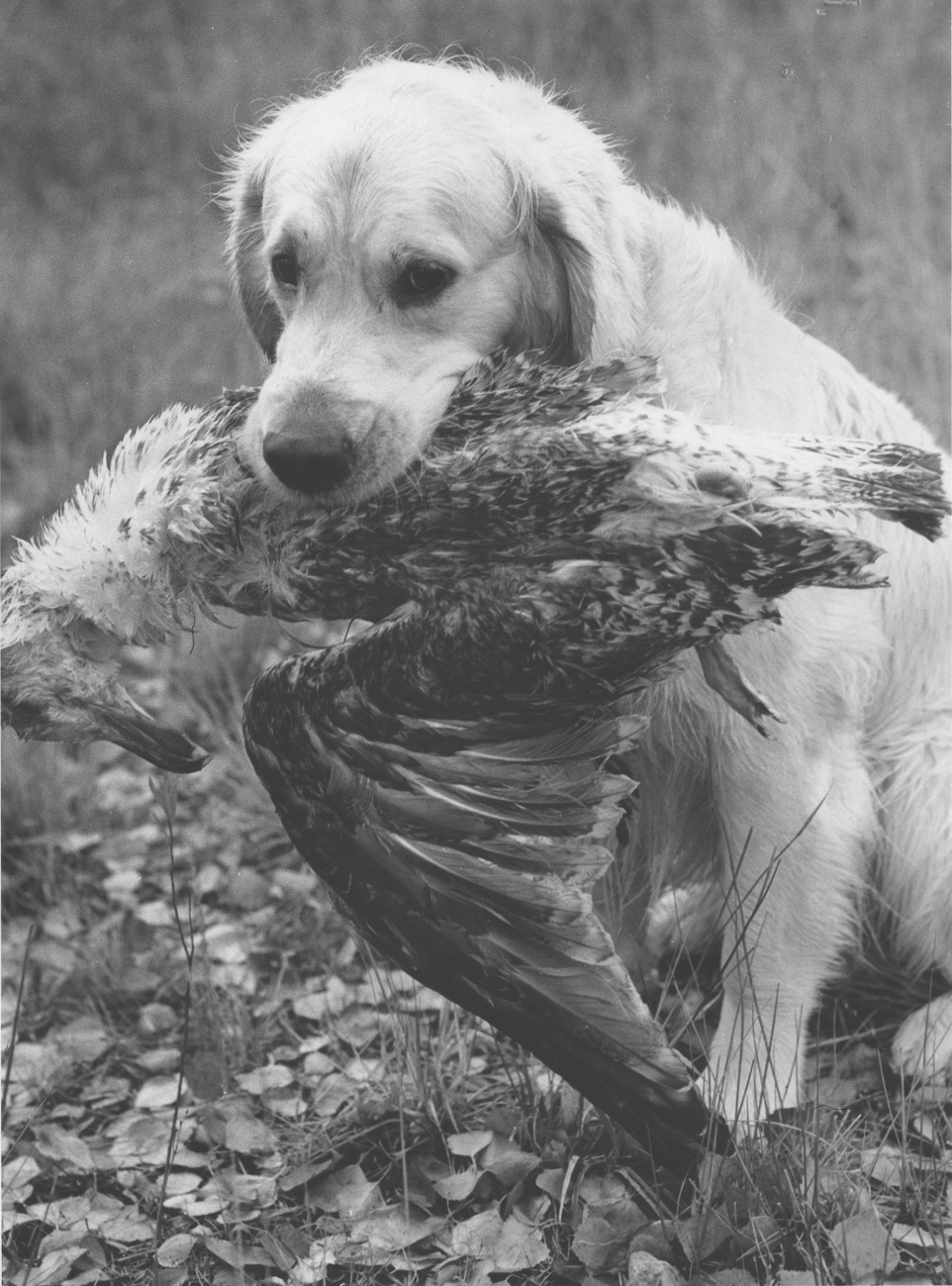 SE UCH Ringmaster Viscount W
With the help of Henric Fryckstrand I picked a very good stud dog in Finland, Royal Ringmaster of Woodhill. He was by Henric's dog NO UCH Gyrima Zacharias and was a great influence on Kennel Ringmaster too. He sired SE UCH Ringmaster Triplet Beauty among many others.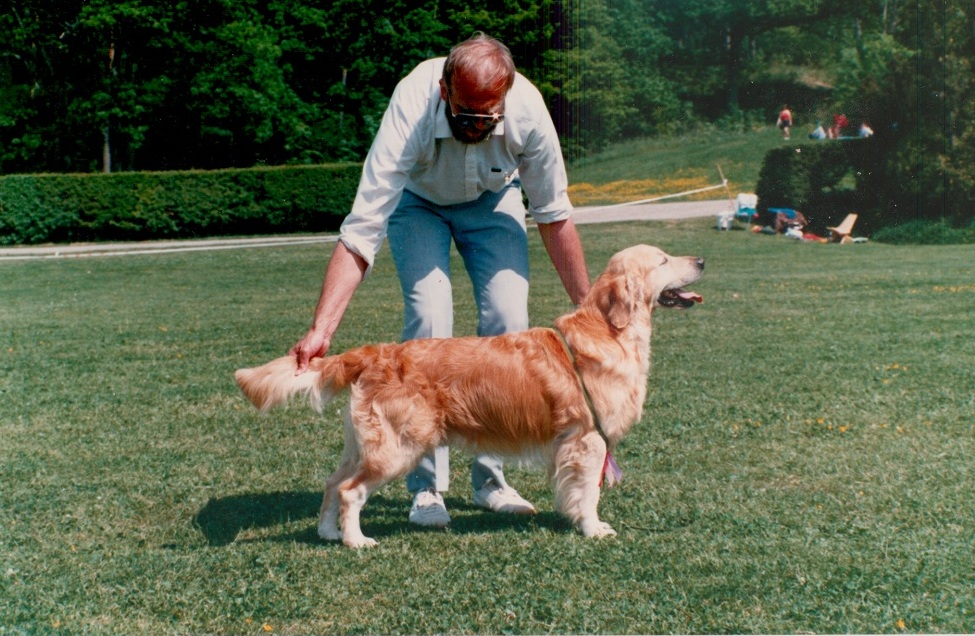 Royal Ringmaster of Woodhill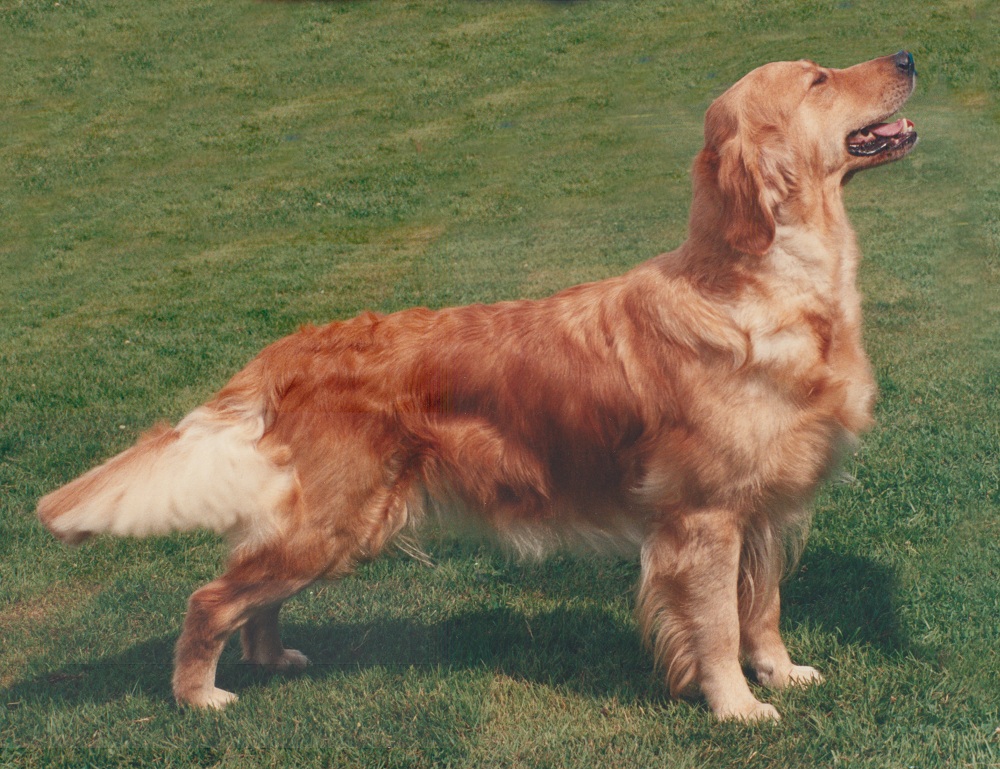 SE UCH Ringmaster Triplet Beauty
Kennel Ringmaster started with Apport bloodlines, made an attempt with Camrose and ended up with of Yeo. In recent years my breeding has revolved around preserving the Yeo type using superior dual purpose dogs from other lines, e.g. Rayleas Angus and GB CH Stormerick Don Sebastian.